November 12, 2022 Workshop: Using the Hable One Keyboard: A Joint CCB-GTT and BLC Presentation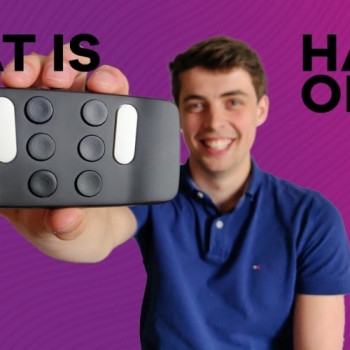 ---
Date : Saturday, November 12, 2022
Time : 1:00 PM (EST)
Host: Kim Kilpatrick
Presenter: Freek van Welsenis, Co-founder, Hable One
Using a smartphone with a visual impairment can sometimes be frustrating and difficult. At Hable, we like to make this easier for you. The Hable One is the easiest Braille keyboard to control your smartphone.
Do you use Voiceover or Talkback on your smartphone and struggle with swiping gestures? Or do you find on-screen typing cumbersome and takes up a lot of energy? Then the Hable One is probably of interest to you.
The Hable One is a small and handy device that allows you to type easily and quickly on your smartphone, for example when you are on the move. It also lets you control your smartphone without having to use the touchscreen.
The device is small and wireless, fits in your hand and has eight control buttons. You hold it with two hands "in the air" such that you have each finger on a button. By using combinations of buttons, you can give commands and enter text. Hable bases these button combinations on the codes of the Braille alphabet. To learn to use Hable, however, you don't need any knowledge or experience with this.
It works with Voiceover and Talkback on smartphones and tablets. It can be used to type more accurately and navigate your phone with simple gestures and shortcuts.
To register for this free workshop, e-mail gtt@ccbnational.net